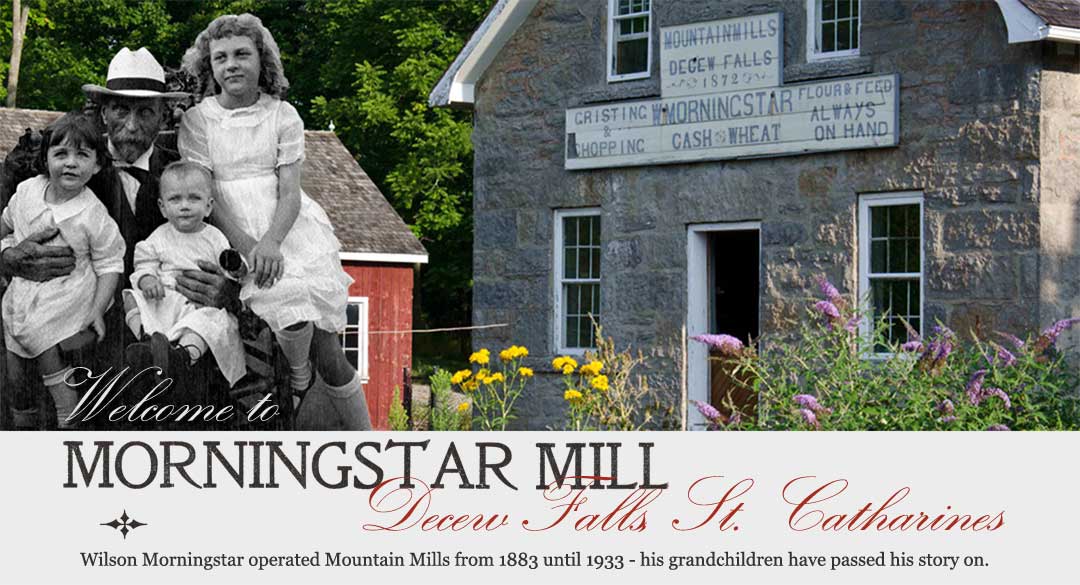 2714 Decew Road, St. Catharines, Ontario | 905-688-6050 | email us | 'like' us on facebook
Morningstar Mill is a rural industrial heritage site owned by the City of St. Catharines and operated in partnership with the Friends of Morningstar Mill. It features a working grist mill rebuilt in 1872, and the home of the Morningstar family restored to 1932.
Morningstar Mill is one of the few mills in Ontario that houses all its original equipment, and operates its millstones using the original water source. The mill provides a rare glimpse back in time to when moving water was still used to mechanically grind grain into flour.
The Mill is open for tours...
Victoria Day until October 13, 2018:
Tues/Thursdays 9 am - 1 pm, Sat/Sundays 10 am - 3 pm, holiday Mondays
By chance or appointment
Free Admission - Donations Welcome
Teddy Bear Picnic: Sunday, July 8, 2018 from 10:30 am - 1 pm
Join us for a morning of fun, history, and furry friends! The picnic will feature a look inside the historic mill and home on the property, a craft, games, lunch and more! There will even be a nurse's station for the minor repair of special friends, so make sure to bring your favourite teddy bear or doll!
Please call the St. Catharines Museum at (905) 984-8880 or the Mill at 905-688-6050 to reserve your spot. Get ready to have an un-bear-ably good time!
Ages 4 - 11; $10 per Child; Children must be accompanied by an adult.
Milling dates in 2018...
May 12, June 23, July 28, August 25, September 22, October 13
Milling will begin around 11 am. Please note that being able to mill is dependent on having an adequate water flow, please check our facebook page for confirmation and more details.
If you are interested in volunteering...
please call or email us; we are looking out for people interested in giving tours of the mill and house, and helping with basic maintenance.
Professional photography and park rentals by permit only...
please call City of St. Catharines at 905-688-5600 for more information.