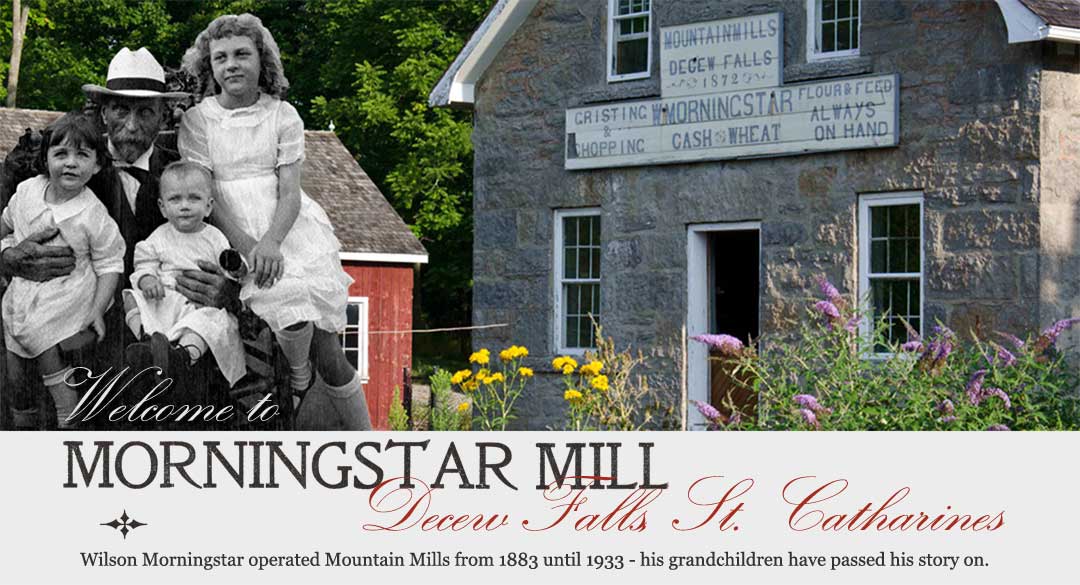 2714 Decew Road, St. Catharines, Ontario | 905-688-6050 | email us | 'like' us on facebook
Celebrating 150 years at Morningstar Mill
This year, we will be celebrating the 150th anniversary of a small flour mill built in 1872 and the life and times of the Morningstar family.
Morningstar Mill is one of the few mills in Ontario that houses all its original equipment and still operates its millstones using waterpower. The site also features the home of the Morningstar family which is restored to 1932.
Wilson Morningstar operated his mill from 1883 until 1933. During these fifty years, the Morningstar family experienced many changes to their everyday lives. The advancements in technology, manufacturing, transportation, and communication brought about social and cultural change, while the last traces of pioneer life quietly disappeared.
Wilson embraced the new technologies, but also retained some of the old. He used a modern turbine to make stone-ground flour and saw logs into lumber. His turbine eventually ran modern roller milling equipment to produce top quality white flour and, later, a generator to produce his own electricity! Despite having modern equipment, Wilson continued using his millstones to make stone ground flour, and his blacksmith and carpentry shop for making or repairing anything his family or community needed.
Wilson's business slowly declined, and when he died in 1933, the water-powered mill was effectively out of use. The Morningstars were held in high esteem by their community. A letter presented to Wilson and Emma on their 50th anniversary in 1932 thanked them for their fellowship and their contributions to the social and industrial welfare of the community.
Today, the mill stands as a monument to a time when industry was physically tied to water power, and as a testament to a very capable and industrious millwright and tradesman who provided for his family and served his community.
Friends of Morningstar Mill celebrates 30 years!
The Friends of Morningstar Mill (FOMM) is an ad-hoc volunteer group that has been to operating the mill and conserving and maintaining the buildings and property since 1992. During the site's open season (May - October), they are on site four to five days a week. They demonstrate the stone-ground flour making process using the water-powered turbine, they host and participate in various events, organize school trips, and provide thousands of free tours of the mill and the miller's house. They also assist with collection's management which includes research, inventory, photographing and cataloguing the collection throughout the year. During the off season, they are on site twice a week maintaining and doing restoration work in the mill and house. In 2019, they volunteered over 3,900 hours and toured 15,000 people through the site. The site was closed in 2020 and only reopened in August 2021.

The Mill is open for tours...
Victoria Day until Thanksgiving:
Tues/Thur/Sat/Sundays 10 am - 3 pm, by chance or appointment
Please call us at 905-688-6050 before you visit to confirm that we are open.
Free Admission - Donations Welcome
Milling days and the Teddy Bear Picnic resume in 2023.
If you are interested in volunteering...
Please call or email us, we are looking out for people interested in giving tours of the mill and house, gardening and general maintenance.
Professional photography and park rentals by permit only...
Please call 905-688-5600 for more information.